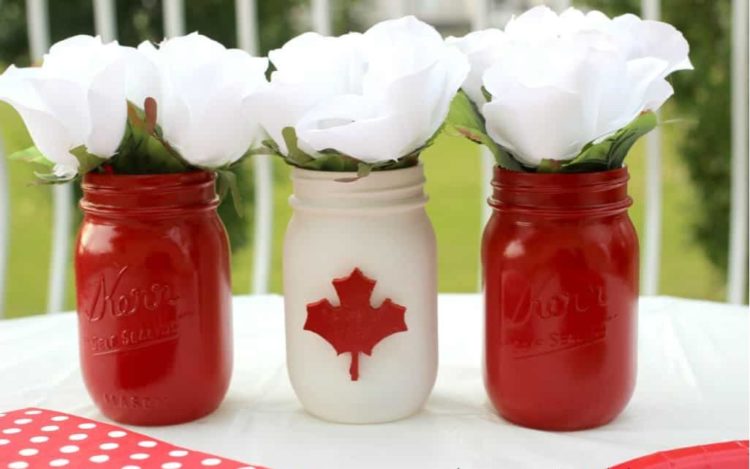 How to Throw an Easy and Amazing Canada Day Party!
Who's ready for the long weekend?  I know I am!  Our super amazing country is turning 152, so what better reason than to celebrate by throwing the ultimate Canada Day party!  If you're planning on having a party, I bet you want it to be easy, stress-free and fun for everyone, including yourself!  Well I've got some tips to help you throw an epic Canada Day party in just 1-2-3!
The Decorations
The theme is pretty much all set for you so go with it and set the mood and tone for a fun-filled Canadiana party!  It's summer, so take the party outdoors and decorate your backyard for one epic party!  Obviously use lots of red and white everywhere.  You can pick up some great decorations at Party City and my favourite Dollarama!
Hangs lots of banners and flags everywhere to show your patriotism!  But don't stop there!  You can also carry the colour palette over into your choice of tablecloths, throw pillows, trays and flowers!  You can pick up some great red and white check plastic tablecovers at your local Dollar store or check out Amazon!  I picked up some red and white plaid reusable ones a few years back from Amazon and they held up really well!
Throw in some iconic symbols of Canada like the beaver, moose and some maple leafs and you are set.  I actually also love this O' Canada printable sign by Sweet Green Studios that I'm just going to print and frame!  And for an easy centerpiece for the table fill some jars with red and white flowers and pop in a couple flags in a vase and you are set!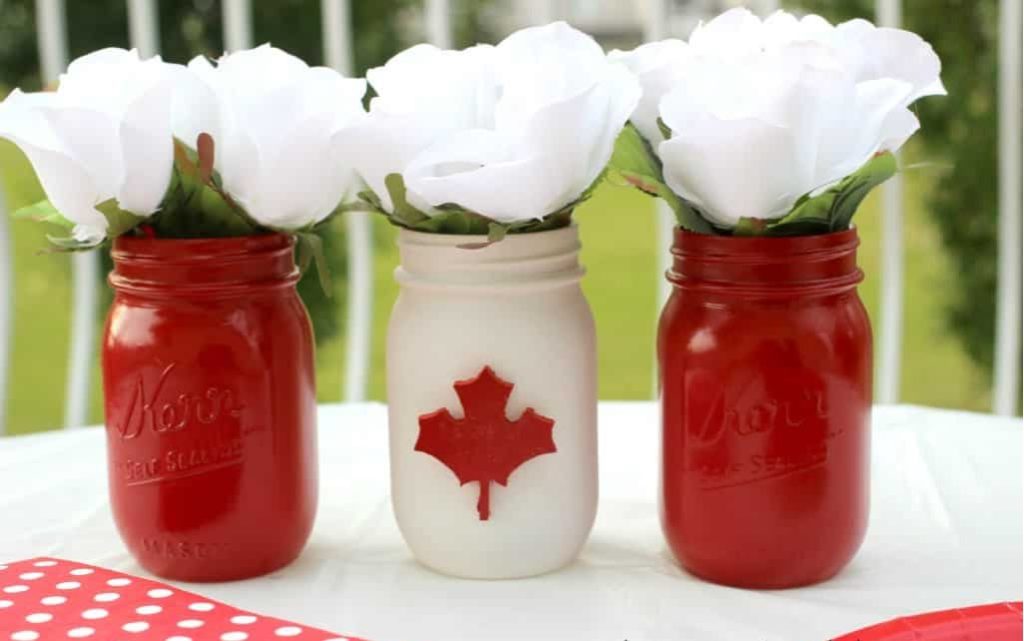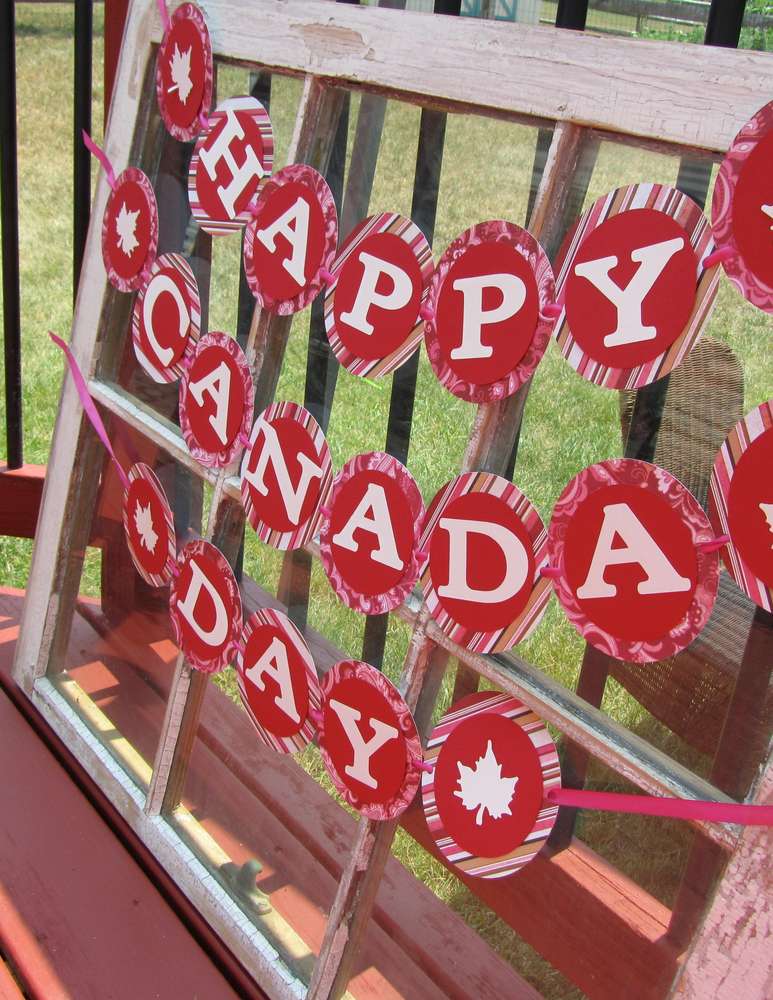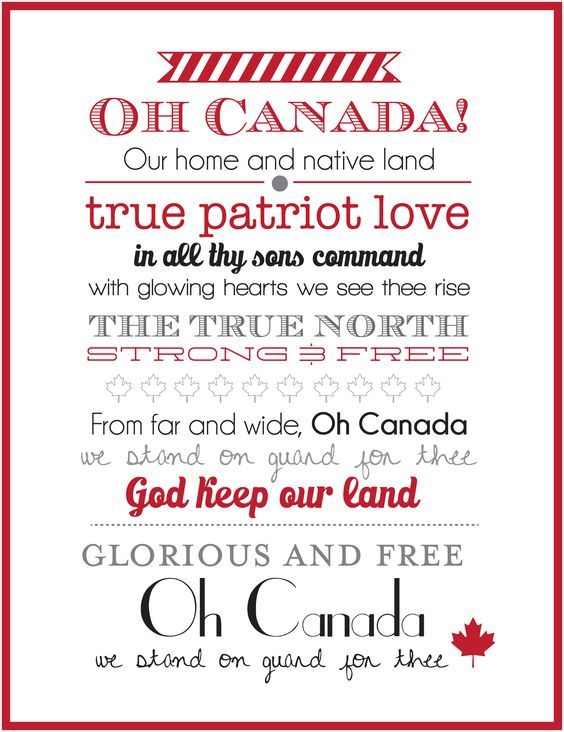 Food & Drinks
Since you'll be outdoors you want to keep the food and beverages super easy and simple too!  Instead of running around filling guests drinks, why not set up a bar for people to help themselves.  I love using a few galvanized tubs and even these cool retro party coolers (I picked mine up from Wayfair).  Fill them with lots of ice and drinks and they're good for all day and night!
Also set up a bar cart that's loaded with all the essentials – glasses, alcohol and mixers.  And I also love to serve a signature drink.  For Canada Day I love to prepare a big batch of my favourite Sangria, that's sweetened with Maple syrup of course!  To really make it Canadian, swap in some fresh Canadian fruits like apples, strawberries and blueberries and a Canadian Pinot Noir.  Now if that's not a Canadian Sangria I don't know what is!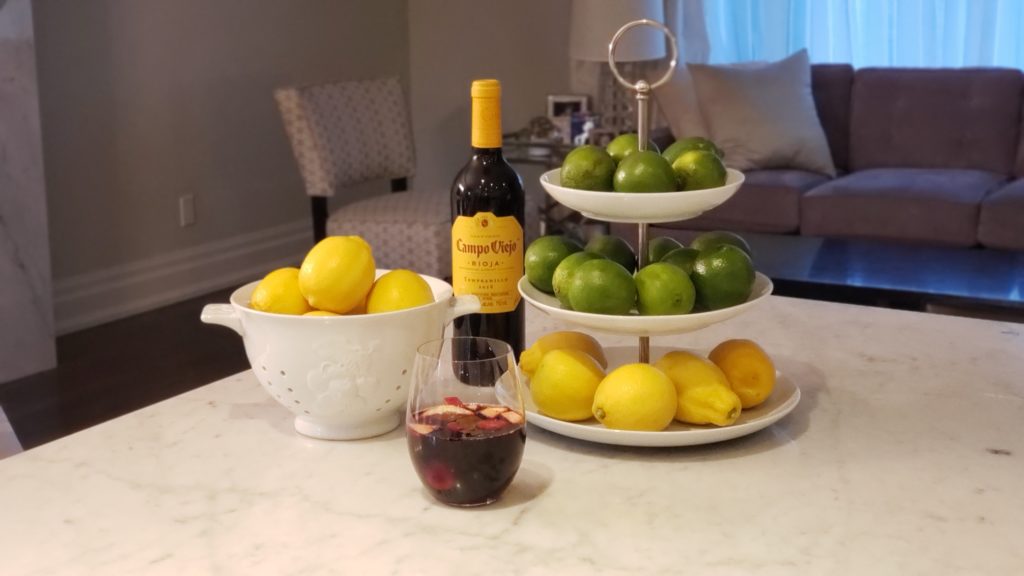 For the food since you're already outdoors and it's summer, what could be more perfect than BBQ!  Keep it simple – set up a burger bar, and throw in some giant hot dogs for the kids!  My favourite go-to recipe for homemade burgers is the one by the Barefoot Contessa Ina Garten.  You can make sliders or modify and make as full size burgers too!  Add a couple great salads, maybe even a Tomato Bocconcini Salad that's a patriotic red and white, and some easy corn on the cob and your buffet is done!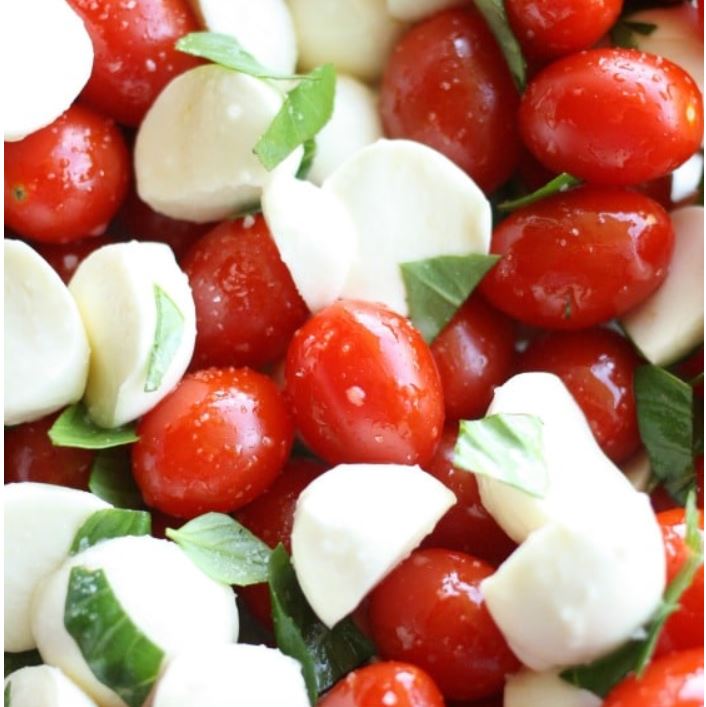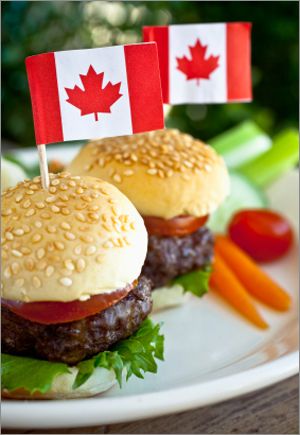 And for dessert, there's nothing like some traditional butter tarts and how about some Maple glazed donuts too!  I'll be honest while I'd love to say I make these from scratch, I don't, at least not for Canada Day!  I typically head over to the grocery store for the tarts and pick up a few dozen of the donuts from Tim Hortons.  It's all about how you plate them!  Stick them on a pretty white platter or cake stand with some flags and they'll look like you were slaving in the kitchen all day!  Shhh, it's our secret right?
Fun Activities
Definitely be sure to set up some fun games and activities for the kids to keep them busy!  Start off by setting out lots of fun Canadian themed hats, headbands, glasses and flags for them to use.  And if you're up for it how about some red and white tattoos and face painting!  I also usually like to set up some lawn games in the backyard for kids and adults alike.  My kids love to play with these with their friends and they will just occupy themselves for hours.  Amazon and even Wal-mart have a great selection of lawn games like bowling, giant Jenga and even giant Connect Four.  Also fill some buckets with bubbles and sidewalk chalk too for the younger kiddies!   Of course don't forget to prep your playlist and have the music blasting all night and day.  And when it gets dark definitely end the night with some fun sparklers and fireworks to celebrate our country!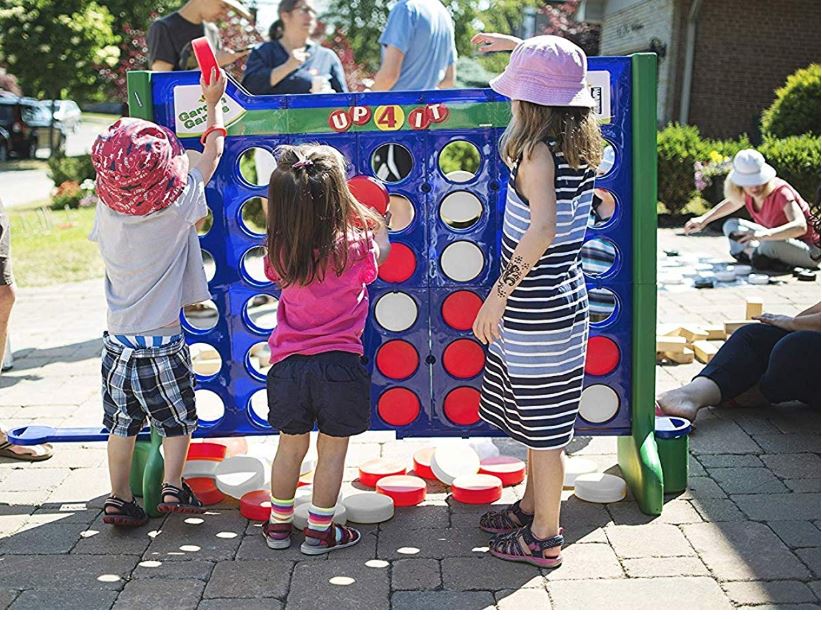 Hope these ideas and tips help you plan an amazing party for your friends and family –and that you can do it with a little less stress and a lot more fun!  Have a great long weekend everyone and Happy Canada Day!